Having your important documents in a digital format such as PDF presents you with the versatility and convenience that by far can never be matched by the physical paper. Moreover, saving documents as PDF files take up less space and makes it way easier to look for specific information.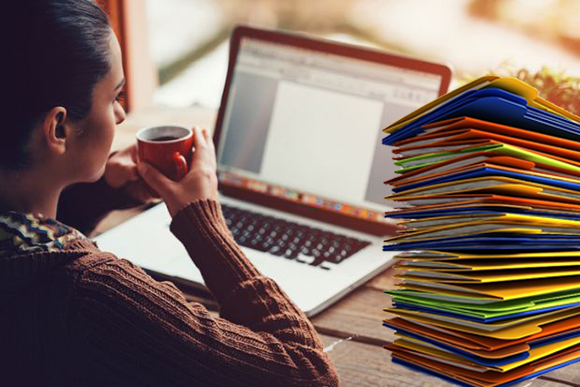 If you search the internet for software that allows users to convert scanned documents to PDF file format, you will probably be presented with quite a number to choose from; the only problem is that most of them are very expensive commercial applications. However, there are free ones but again, some of them come with annoying restrictions. After conducting a thorough research, here is our top 10 scan to PDF software that you can use to scan your documents to PDF.
---
1.  Advanced Scan to PDF Free
Advanced Scan to PDF Free is one of the most trusted and popular free apps for scanning physical documents to PDF. As opposed to most free tools, Advanced Scan to PDF Free packs quite a number of features that make it possible for you to modify the scanned PDF file in more than one way. This tool is for sure revolutionary free software for digitizing as well as sharing of paper documents over the internet.
Advanced Scan to PDF Free has sophisticated file conversion utility that is specifically designed to convert tons of image files ranging from drawings, photos, faxes and scans, and have them in PNG, JPG, GIF, BMP among other formats into PDF files while accurately maintaining the layout of original image files.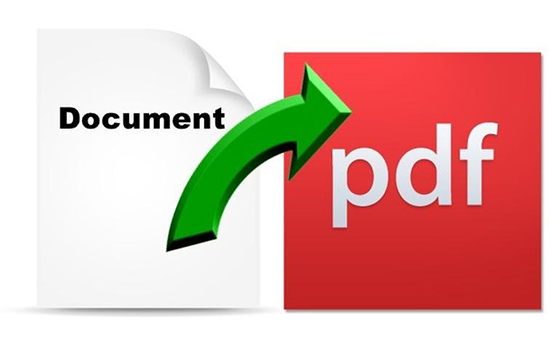 Still, on functionality, Advanced Scan to PDF Free is able to rotate or flip images in clockwise and anticlockwise rotations in order to adjust image orientation just how you would like it. Additionally, you can also crop images to your desired size. With the built-in preview window, you're able to have a real-time preview of the files to make sure they're the right ones. What's more, you're able to add metadata such as title, subject, author and so forth. Lastly, Advanced Scan to PDF Free has a convenient email facility that allows you to quickly share PDF files.
Having said that, now let's find out how you can convert your physical documents to digital files using Advanced Scan to PDF Free.
Download Advanced Scan to PDF Free
---
How to Use Advanced Scan to PDF Free
Step 1: Launch Advanced Scan to PDF Free and activate the scanner
Place the paper to be scanned in the scanner, go to the toolbar and click Scan, select the scanner you want to use and click Ok.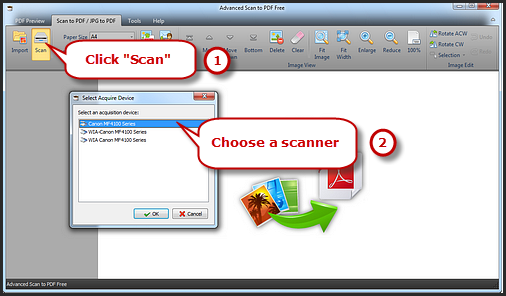 Step 2: Time to start scanning
To have a look at how the final document will look like after scanning, click Preview and then click Scan. You can apply the adjustments like rotate, reduce, enlarge and fit the image. If you're scanning several documents then you can adjust their order by moving them to the left panel.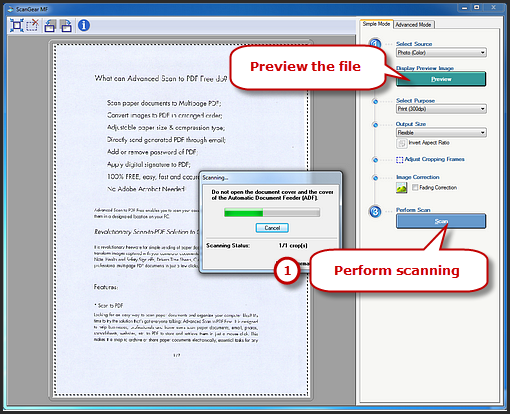 Step 3: Configure the output settings and save
Select the page size of the PDF file, click Save PDF and then choose the folder where you want it saved, click Ok to start the converting process.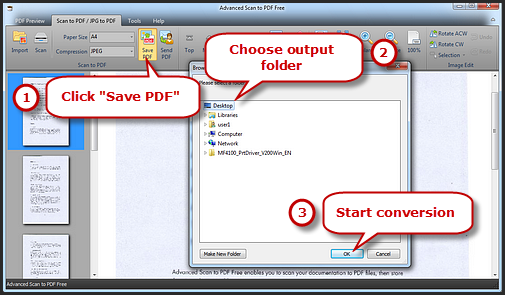 ---
2. Free Scan to PDF
Free Scan to PDF is simple both in function and presentation. It offers you a standard set of pre-and post-scanning features such as page adjustment, cropping, rotating and copying. Free Scan to PDF is compatible with a variety of Windows operating systems and it creates high-quality PDF files on the go.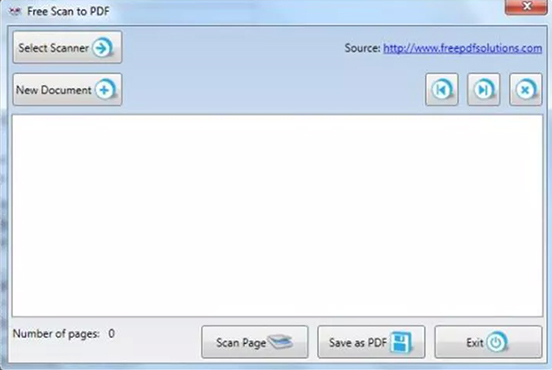 ---
3. NAPS2
NAPS2 stands for Not Another PDF Scanner 2. This software comes with a decent amount of useful features, which are all free. If you heard someone mention NAPS2 you'd think they're referring to some fancy app, the fact is NAPS2 does not come with any fancy UI, let alone a detailed guide. NAPS2 is very simple and straightforward.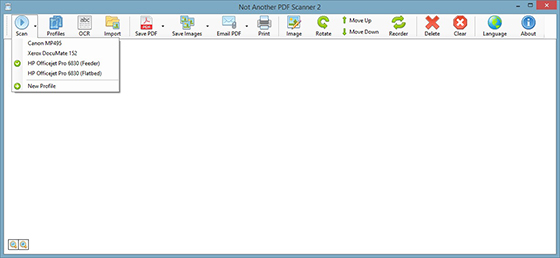 ---
4. Scan2PDF
Scan2PDF is yet another effective tool that you can use to scan your documents into different formats, including PDF. This application comes as freeware for Windows-based computers and provides a cool list of extra features. You're able to merge multiple scans into PDF, a feature only common with paid applications.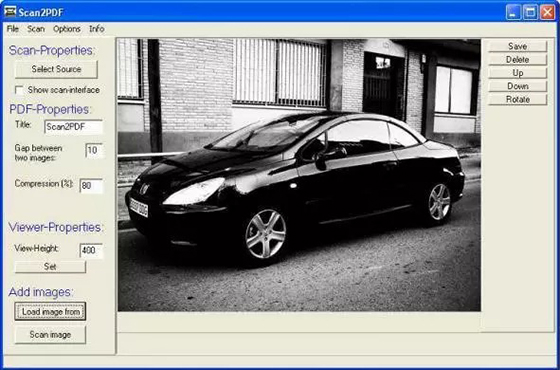 ---
5. QuickScan
QuickScan allows you to quickly and easily scan your documents on Windows-based platforms. This is a free application that balances between simplicity and speed on one hand and simplicity on the other, making it a perfect scanning tool for users, more so average users.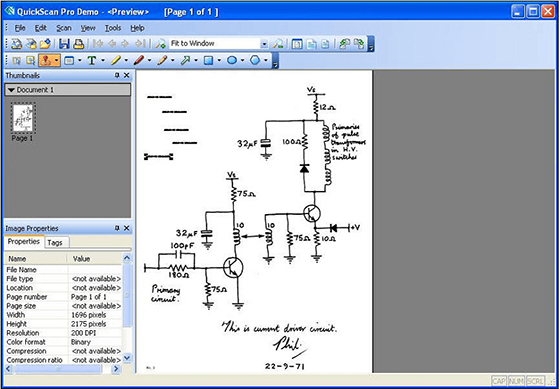 ---
6. Readiris Pro 16
Readiris Pro 16 is one of the best software packages more specifically made for OCR scanning. It is compatible with Windows 7, 8 and 10 platforms. Additionally, Readiris Pro is compatible with all TWAIN scanners, allowing you to convert documents and images to a wide range of formats. Readiris Pro a basic version, however, we have a corporate version that goes for $199.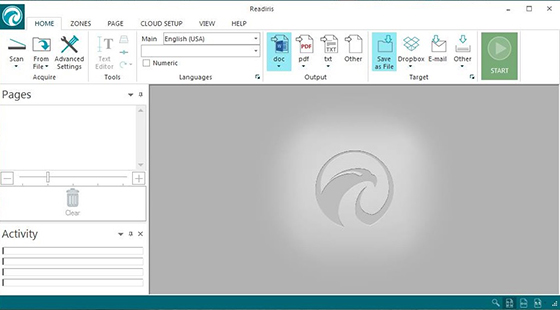 ---
7. VueScan
VueScan is a scanning application that comes with a fairly extensive customization options and works well. With VueScan, you can keep your scanner working after upgrading platforms even if you can't find the required drivers for the scanner or OS version. It comes in two editions, standard and professional. The pro version is retailed at $89.95.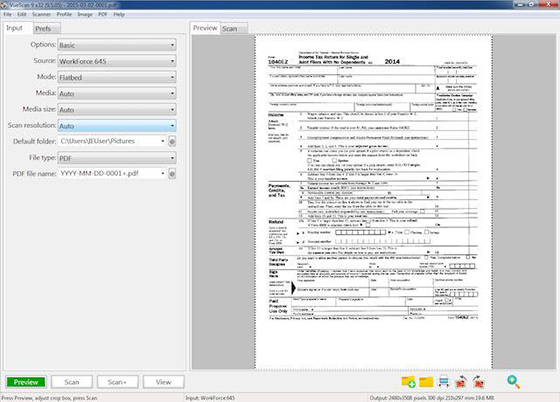 ---
8. PaperScan Scanner Software
PaperScan Scanner Software is multi-purpose scanning software that is compatible with most scanners and scanning devices. This software is available in three versions, Pro, Home and Free edition, with the best version retailing at $149. PaperScan Scanner Software runs on Windows 10 platform.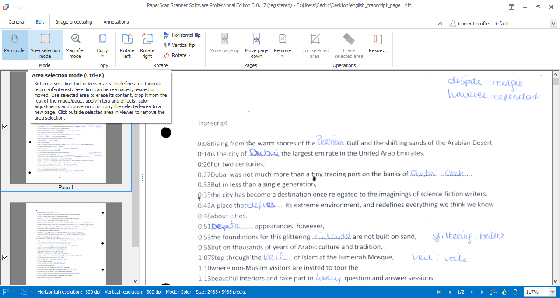 ---
9. OmniPage Standard
OmniPage Standard, just like Readiris Pro, is a top-rated OCR software package, offering very accurate document scanning. There are two versions of this software, standard and ultimate versions, which are both supported by Windows, from XP to Windows 10. The standard version goes for $149 and comes with the best OCR technology.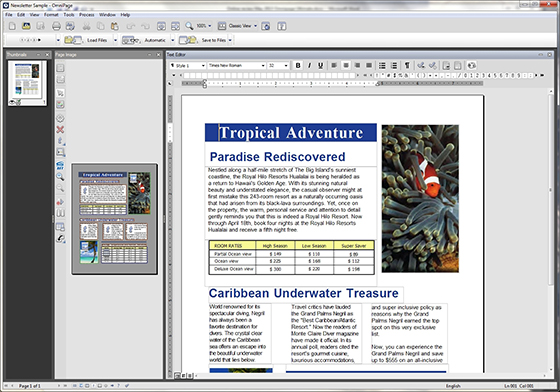 ---
10. ScanSpeeder
If you're looking for a software to scan lots of photos then ScanSpeeder is the ideal tool as it scans multiple photos at once.in as much as ScanSpeeder is not a freeware, retailing at $29.95, it does offer a great value to users.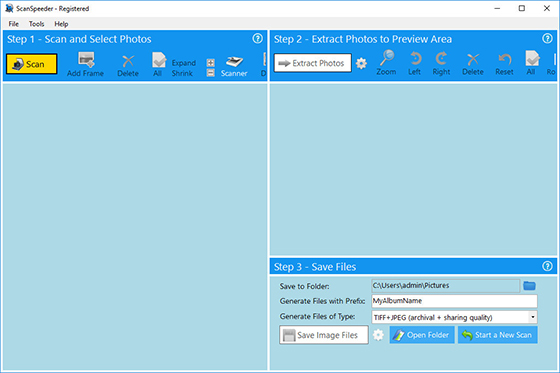 ---
Conclusion
Based on our research, we highly recommend Advanced Scan to PDF Free. Let's all be eco-friendly members of the society by digitizing documents.