Introduction
A digital signature uniquely identifies the originator of digitally signed data and also ensures the integrity of the signed data against tampering or corruption. So digital signatures are commonly used to identify electronic entities for online transactions, just like handwritten signatures or physical thumbprints are commonly used to identify people for legal proceedings or transactions.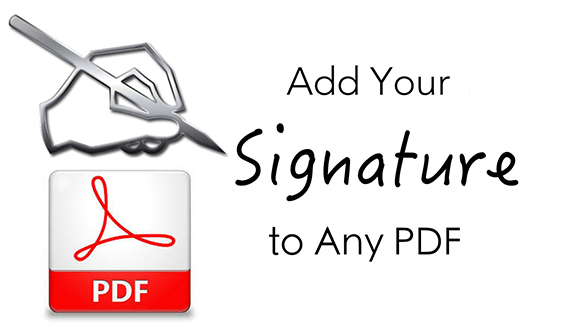 ---
Apply Digital Signature to PDF
Launch Advanced Scan to PDF Free and click "Tools" tab. Then click "Apply a Digital Signature". Enter information in each box: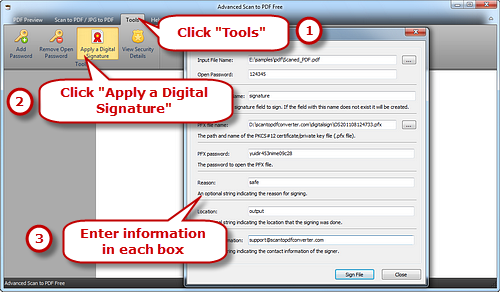 Input File Name – click "Browse" to select the PDF file you want to apply digital signature.
Open Password – enter the password if the PDF file is encrypted.
Signature Field Name – the name of the signature field to sign. If the field with this name does not exist it will be created.
PFX file name – the path and name of the PKCS#12 certificate/private key file (.pfx file).
PFX password – the password to open the PFX file.
Reason – an optional string indicating the reason for signing.
Location – an optional string indicating the location that the signing was done.
Contact Information – an optional string indicating the contact information of the signer.
---
What Does Our Customer Think about Advanced Scan to PDF Free?
"Although I'm not tech savvy, Advanced Scan to PDF Free enables me to navigate through a user-friendly interface easily and I like its simple download and installation process. It helps me convert my piles of paper documents to PDF with ease. I like its editing function which allows me to edit the PDF file so as to meet my preferences. It is really worth a try if you want to know more about this software. More importantly, it's totally free and you will lose nothing even it is not so good."
– Jordan Minor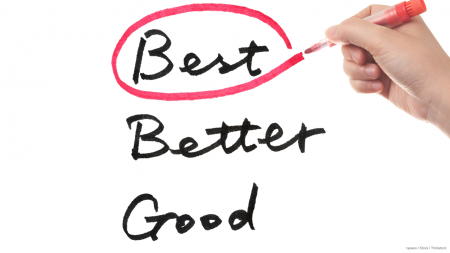 ---
Conclusion
For those who want to get a paperless office, document scanning is part of the path to get them there. However, there is a difficulty in looking for an appropriate program because each program designed differently in terms of ease of use, versatility, processing speed and output quality. To saving you much effort in trying each software individually, we recommend Advanced Scan to PDF Free which is inherently powerful and versatile scan to PDF converter on the market. It has the ability to scan any type of paper documents to PDF with a fast workflow for easier digitizing and sharing.