Introduction
Scanned documents available for use are not always formatted in the way that users need them. In many cases images must be flipped or rotated to convey the proper meaning or to improve the overall layout of a document. Advanced Scan to PDF Free provides several simple yet useful functions to make the desired changes.
Step 1. Activate Scanner
Launch Advanced Scan to PDF Free and place your document on the scanner bed. Click "Scan…" to choose a scanner connected to your computer and activate the scanner program.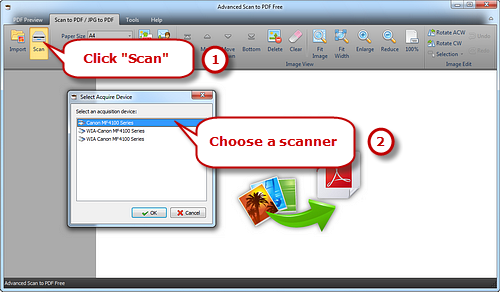 Step 2. Scan the Document
You may click "Preview" to see the image to be scanned. Then click "Scan" to perform scanning.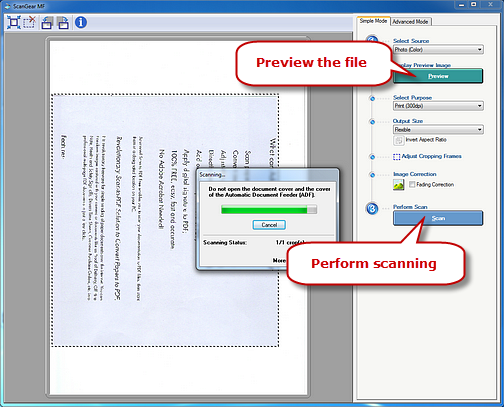 Step 3. Rotate Scanned Image
Several seconds later, the document is scanned to the program window. If the scanned document is not right-side-up, click "Rotate ACW" to rotate the document for anti-clockwise rotation while "Rotate CW" for clockwise rotation. If you did not correct well, use the Undo/Redo command and rotate again.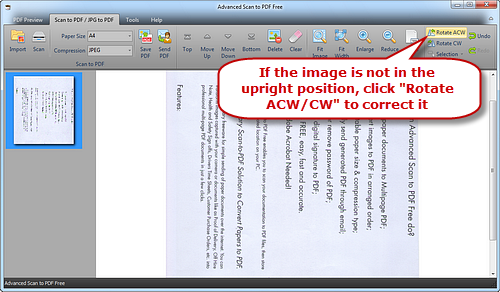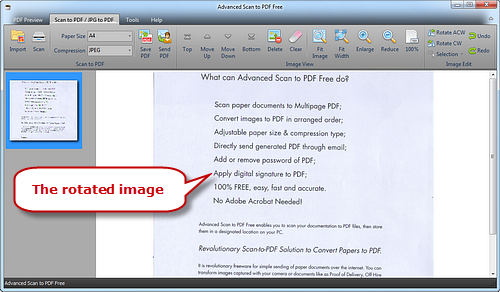 Step 4. Save Rotated Image to PDF
Select Page Size (A0-6, B5, Letter (8.5″ × 11″), Legal (8.5″ × 14″), ledger (17″ × 11″)) and Compression (RLE, G3Fax, G4Fax, JPEG). Click "Save PDF" to choose the output folder and then "OK" to save the scanned document as PDF.